Tips for Parents
There are so many things to do and remember as a parent, but car safety is one of the most important when you're on the go with your family. Here are some important facts and tips to remember.
Treat buckling up as an automatic part of life so your child does too.
Use a car seat every time your child travels in a vehicle.
More than eight out of 10 crashes occur at speeds lower than 40 mph.
Deaths have occurred at 12 mph, about the speed you drive through a parking lot.
Nearly 75 percent of all crashes happen within a few miles from home.
Never let a child out of the seat while the vehicle is in motion. If your child needs a break, stop the vehicle as soon as it is safe to do so.
Never leave a child unattended in a vehicle.
Do not let your children play in an unattended vehicle. Teach them that a vehicle is not a play area.
Tips for Grandparents
Car seat safety has changed a lot since many grandparents parented their own young children. Here are some tips to help make sure grandparents are up to speed on the latest safety to-dos.
All children under 13 should be buckled or in a car seat in the back seat.
If it's too difficult to maneuver the car seat into your car properly, or you don't feel you can get it quite tight enough, search for a child passenger safety technician (CPST) near you who can help.
Trained technicians can help you make sure your car seat is installed correctly.
Lead by example, always use your seatbelt and make sure everyone in your vehicle is buckled in the seatbelt or in a car seat.
Tips for Expecting Mothers
If at all possible, drive less often if you are pregnant and let others do the driving.
Car pool to work, ride a bus, shop online, plan your errands so you can make less trips and go by air instead of driving if you must take a long trip (check with your doctor first).
Make sure you wear your seat belt correctly. Place the lap belt portion under your belly as far as possible and make sure the shoulder belt is across the center of your chest. Never place the shoulder belt behind the back, under your arm, or off the shoulder as this could be very dangerous if you are in a crash.
If driving, move as far away from the steering wheel (where the airbag is stored) as possible and tilt the steering wheel toward your chest and not toward your face as this will be safer.
If you can sit in the back center seat, as long as you have a lap and shoulder belt, it's the safest place for you to be.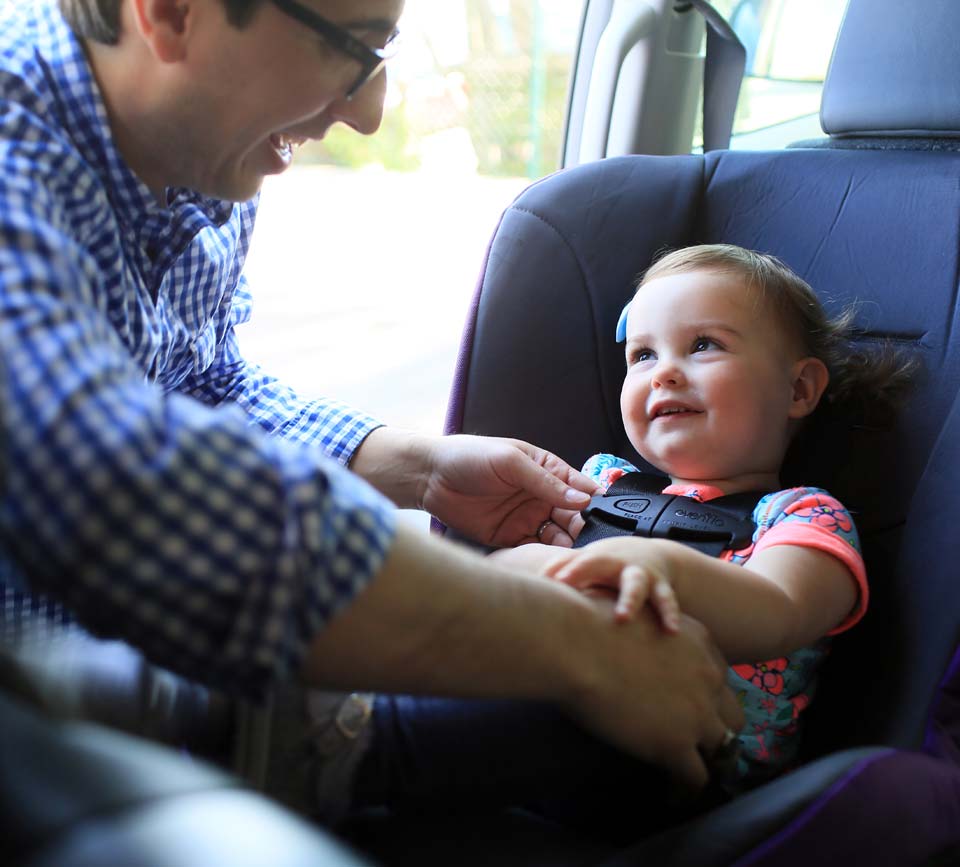 Make sure it stays tight
After miles on the road, is their car seat still in there correctly? Find out with these tips.