It happens in the blink of an eye. One minute you're bringing home a tiny baby in an infant car seat, and the next you're wondering whether your big kid is ready to move out of a five-point harness to a belt-positioning booster seat. Children outgrow their car seats at different rates, but contrary to popular belief, the right time to make the switch has little to do with age. So how do you know when your child is ready for a booster seat? Here are some guidelines for making the switch safely at the right time for your little one.
Is My Child Ready for a Booster Seat?
The safest way for your child to ride in a vehicle is to remain in a five-point harness until they exceed the maximum height and weight requirements of their car seat. Many convertible car seats and harness-to-booster car seats on the market can accommodate children up to 65 pounds. But if you–and they–are ready to move on to a belt-positioning booster seat, make sure your child meets the following booster car seat requirements first.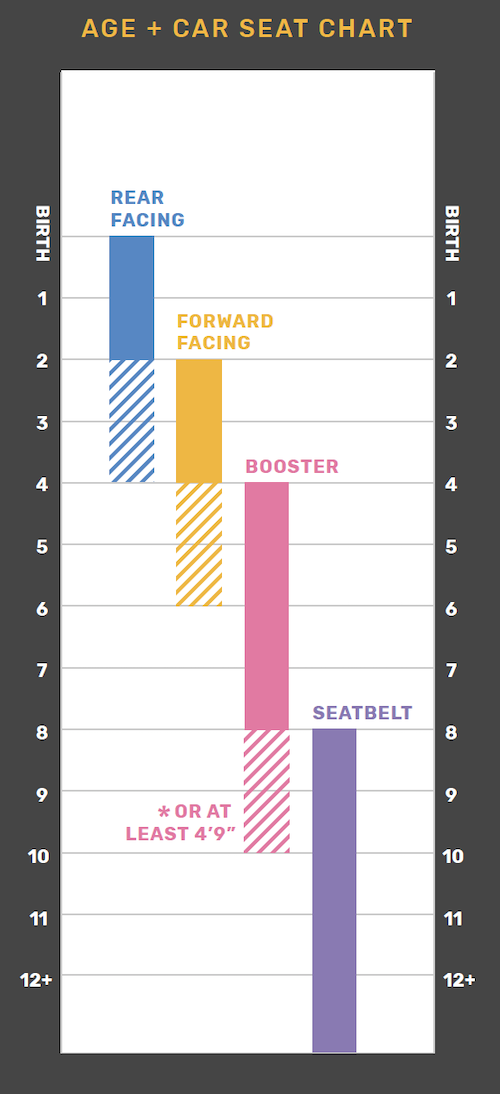 1. Age.
Each state has its own laws and regulations for booster seat age and weight requirements. What is the law for booster seats? Always check your state's requirements! That way, you'll be best informed before moving your child into a different type of car seat. Most state laws and booster seat manufacturers require children to be at least 4 or 5 years old before using a booster. However, age isn't as important as the other three factors.
2. Weight.
Even if your child is technically old enough to legally ride in a booster seat, they may not weigh enough to safely sit in one. At a minimum, your child should weigh at least 40 pounds before using a belt-positioning booster car seat.
3. Height.
The height of your child is of equal importance to weight when deciding whether they're ready for a booster seat. You can safely make the switch only if your child is at least 35 inches tall and can sit in the booster seat with their back against the vehicle seat and their knees bent comfortably at the edge of the seat cushion.
4. Maturity.
Some 4-year-olds may be mature enough to properly sit in a booster seat for the entire car trip with the seat belt correctly positioned across the chest and shoulder, but many will be much older. Your child can safely sit in a booster seat only if they can ride without slouching, leaning to the side, or tucking the shoulder belt under their arm or behind their back.
You know your child best. If you can't rely on your child to sit properly in the booster seat, you can't rely on the car's seat belt to properly restrain them when it really counts.
When to Stop Using a Booster Seat
Just as there are requirements for when a child is ready to move into a booster seat, there are also rules for when a child is able to stop using a booster seat altogether. And these rules may surprise you. Once again, the laws and requirements are different for each state, but typically, your child should remain in a booster until they reach the age of eight and a standing height of at least 4 feet 9 inches. Many children won't safely be able to ride in a car without a booster seat until they're 10 to 12 years of age.
The best way to decide if your child can safely ride in a belt-positioning booster seat or without a booster seat at all is to check the position of the seat belt. Does the seat belt sit across the middle of the chest and shoulder without cutting into the child's neck? Can the child sit comfortably with their back against the seat and their legs bent at the knee over the edge of the seat? Is the lap belt low and snug against your child's upper thighs? If so, it's a good fit.
Ready to make the switch? Learn about the pros and cons between the different types of booster seats so you can make the best decision for your child. And remember, the best type of booster seat is one that fits your child and safely secures them while traveling.